Wentzel Fabrication has earned a reputation for providing leading-edge fabrication, expert installation, and outstanding customer services since 1945. We are serving several companies across Oley, PA. We also service everything that we sell.
Since our inception, we have installed 1000's of countertops. We ensure that the countertops are installed with care and attention.
With us, you can shop with confidence, knowing that our business has an A + rating from the Better Business Bureau (BBB).
Our installation crew and fabricators are quality craftsmen. Our sales staff is experienced, knowledgeable, and courteous.
We take pride in the work we do and take great care and caution when working in your home. Our team will clean up the entire work site after the installation process is completed. It is our goal to make sure that you are satisfied with every aspect of our job.
The Process of Making a Countertop
You can visit our showroom or have one of our representatives visit your home for a free consultation.

Step 1
Choose from a wide range of materials, colors, sink, and edger profiles for your countertops.

Step 2
Based on your choice, we create a template and arrange the work to craft your new counters.

Step 3
After creating a template, we prepare a working model of your countertop. We will confirm the design dimensions and make the final countertop and install it in your home.
Business from Customer Referrals
Repeat customers and customer referrals prove that we offer services, which meet your interior needs. Once you are a customer of ours, we ensure that your concerns regarding the product are promptly addressed.
Trust us when we tell you that choosing us would be the best decision that you'll ever have to make.
For over 74 years, we have been providing unmatched services in the industry. We have worked on a number of residential and commercial projects.
We would love to work with you on your next project!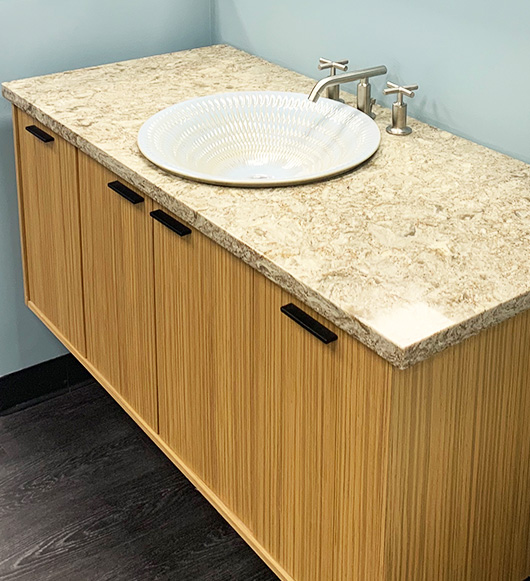 Give us a call to set up an appointment to visit our Showroom Today!